Tables & Rooms
We have four dining sections; Table Seating, Private Rooms, Special Private Rooms, and Floor Seating.
Enjoy your meal in an atmosphere directed down to the finest details.
Table Seating
1st Floor (31 seats)
Counter seats are centered around a hibachi-style grill
Tables are for a party of 2 or more
Request a seating preference at reservation
*No Reservation for Lunch
*Non-Smoking All Day
Special Private Rooms
1st Floor Private Roms (4-14 people, 4 rooms)
・Smaller Room (4-6 people)
Room Fee 5000(Room Fee for Lunch 2500)
・Bigger Room (7-14 people)
Room Fee 8000(Room Fee for Lunch 4000)
・Two Rooms (Upto 18 people)
Room Fee 13000(Room Fee for Lunch 6500)
*Service fee of 10% will be charged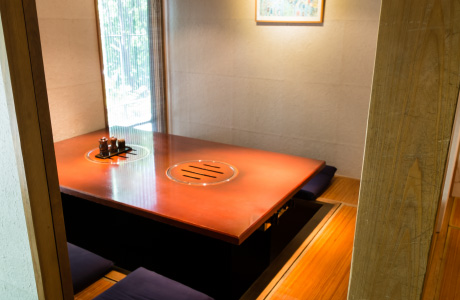 Private Rooms
2nd Floor (6 rooms)
Reminiscent of a Kurosawa Movie set,
this casual yet private setting is in a space with partitions between you and the neighboring party.
・2-6 people
Room Fee 4000 (No fee for Lunch time)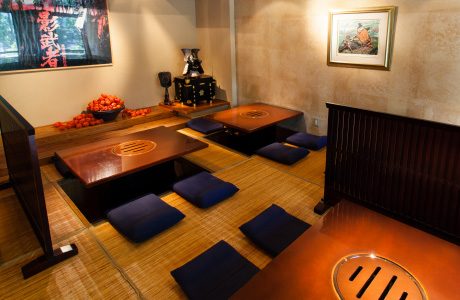 Floor Seating
2nd Floor (4 seat table x 9, All tables can be reserved for one party)
Spacious floor with 9 tables with Horigotatsu. Table by windows or in front of Kabuto are popular.
*Non Smoking All Day since June 2016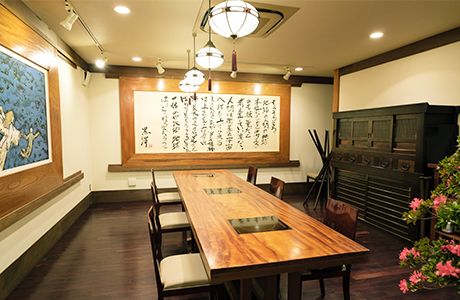 Private Dining Building
1st Floor
Room Fee 10000(Lunch 5000・Service fee 10%)